Optimizing brainfuck compiler using LLVM
2010-02-27, last updated 2014-03-04
Optimizing brainfuck compiler using LLVM
LLVM is currently the hype in the world of compilers. This C++ based compiler infrastruture is hard on its way to replace the Gnu Compiler Collection. In contrast with GCC LLVM has a nice C++ interface wich allows you to easily implement your own language, or so I thought.
It turns out that LLVM is still somewhat of a moving target and examples from previous versions no longer compile. It was quite a struggle to get the simplest example to work since the API is very unintuitive and complex at first.
In the end I managed to get it working.
Then I played with it some more. Trying out other ways to translate brainfuck to LLVM IR.
In the end I found that I could get remarkable optimzation results. The key was:
enabled some complex loop optimization passes

allocated the brainfuck memory on the stack

do not create a loop to initialize the memory, but explicittly set every cell
If you have done all that, then the compiler is capable of compiling the following brainfuck "Hello Wordl!"-program:
>+++++++++[<++++++++>-]<.>+++++++[<++++>-]<+.+++++++..+++.>>>
++++++++[<++++>-]<.>>>++++++++++[<+++++++++>-]<---.<<<<.+++
.------.--------.>>+.
into
which is optimal! All the loops and operations are elliminated! Compare that with the esotope compiler!
Benchmark!
Okay, now that I have my super-optimizing llvm-based brainfuck compiler it is time to benchmark it against the direct-threaded virtual machine I developed earlier.
The direct threaded VM has two modes; non-optimizing where it executes brainfuck instructions as-is and optimizing where it replaces certain sequences of instructions with more efficient onces.
The llvm jit-compiler has a broad selection of optimization passes that can be chained in uncountable ways. After a lot of trial and error I found the chain presented in the source below. In the benchmark I also included no optimization passes, only an instruction combining pass, the default selection for amd64, the aggressive default selection for amd64 and my own extensive chain.
The first benchmark program, Bottles, prints the lyric to "99 bottles of beer". Developed by Andrew Paczkowski. origin.
The second, Hanoi, solves the three peg nine disk towers of Hanoi problem and animates the solution with ascii art. Developed by Clifford Wolf. origin
Last, Mandelbrot, calculates a 512×192 mandelbrot fractal and displays it with ascii characters. Developed by Erik Bosman. origin
| Virtual machine | Optimization | Bottles | Hanoi | Mandelbrot |
| --- | --- | --- | --- | --- |
| direct threaded | none | 0.008 | 29.647 | 1978.041 |
| direct threaded | simple | 0.017 | 1.091 | 273.033 |
| llvm jit | none | 0.129 | 11.731 | 111.611 |
| llvm jit | combining pass | 0.121 | 7.245 | 52.894 |
| llvm jit | default | 0.157 | 9.491 | 42.440 |
| llvm jit | aggressive | 0.174 | 9.618 | 42.048 |
| llvm jit | extensive | 0.375 | 50.141 | 37.745 |
The results are in seconds and include everything from starting the compiler until the exit of the brainfuck program.
One result stands out: the extensively optimized hanoi takes a lot of time! Well, actually, the optimization takes a lot of time, the resulting program executes in less than a second. Further analysis (using callgrind, callgraph shown below) showed that all the time was spend in the "Loop Invariant Code Motion" pass. This pass is largely responsible for the incredible optimization result shown earlier. I suspect that LLVM was also able to reduce hanoi to a near minimal set of output instructions, although the resulting code is too messy to confirm this.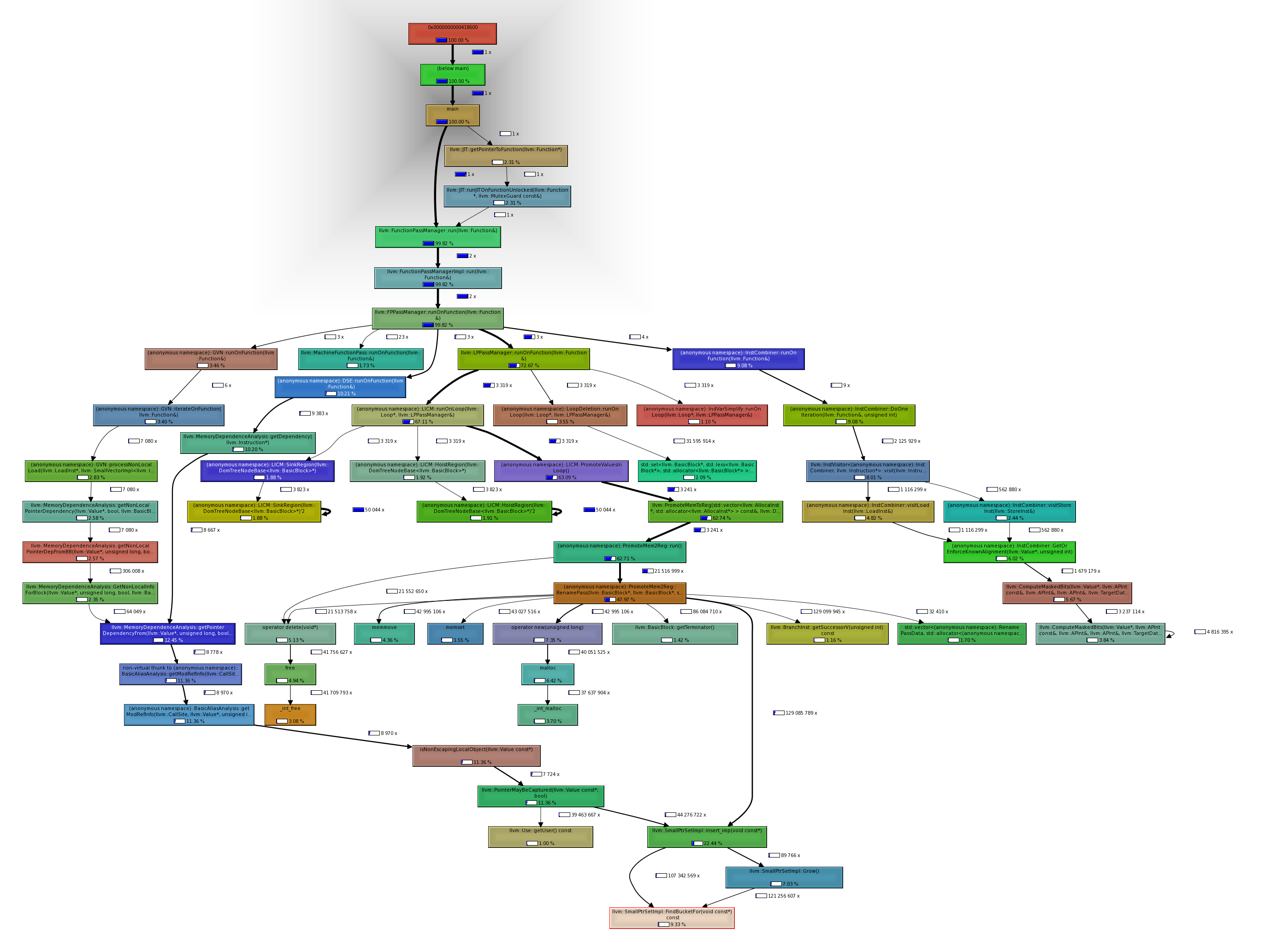 Source!
As always, here is the source:
Compile with:
Note: The order of the arguments is important! The source file must come before the llvm-config part or the linking will fail! I lost about a hour on this non-intuitive behaviour.
Awesome! This is exactly what I've been looking for.

— B L 2011-03-03